By Plantworld at Plantworld News in Plant News
Kubota and Northampton Saints partnership goes from strength to strength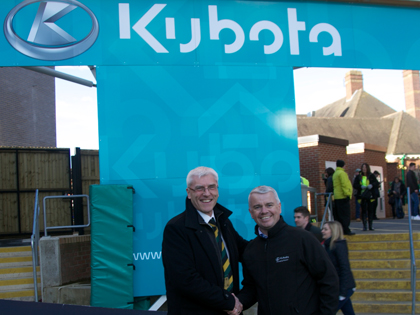 Kubota UK has signed a new partnership with Northampton Saints that will see the market leading machinery supplier become an elite sponsor of the Aviva Premiership rugby team for the next two seasons.
Kubota's logo has been seen on the back of the Saints' playing shirts since last October, with the company also providing the machinery for the Franklin's Gardens ground staff to maintain the pitches to the highest possible standards despite some trying conditions during the wet winter.
The new Elite Sponsor agreement was officially announced on the pitch at half time during the Saints v Leicester Tigers game on Saturday 16th April 2016. Saints' CEO Allan Robson invited Kubota UK's managing director Dave Roberts to join him for the announcement and a photo opportunity.
Dave Roberts, Kubota's managing director, commented: "When we joined forces with the Saints for the 2015/16 season, it was the first time ever that Kubota UK had carried out sponsorship with a top flight sports team.
"There's no doubt that being associated with one of Europe's leading professional rugby teams offers us excellent reach for our brand, with the added advantage of enjoying watching a fantastic team achieve success."
Key to the success of this partnership has been the ability for Northampton Saints' groundcare team to use Kubota machinery as part of the sponsorship. The team have been provided with a Kubota Grand GL40 Series mid-range tractor and an RTVX900 utility vehicle to help maintain the main pitch and training grounds. The machines have been supplied by local Kubota dealer George Browns Ltd, who are also providing ongoing service and aftersales support.
Wayne Billing, head groundsman at Northampton Saints, said: "Our job is to keep our pitch and training facilities in first class condition to ensure the players have the best preparation time and surface for playing winning rugby on match days. In order to deliver this, it is essential we have the best kit on the market. The Kubota brand is world renowned for being the best on the market for performance and reliability, so we are delighted to working with them and George Browns."
For more information on Kubota and its extensive range of solutions, visit www.kubota.co.uk or call 01844 268000.