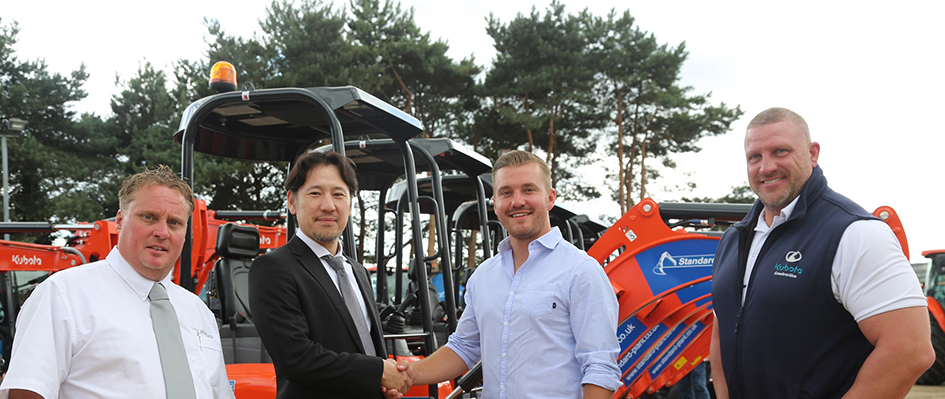 From left to right, Paul Mahoney of Lister Wilder, Shinsuke Kamada of Kubota Japan, Michael Flemming of Standard Plant and Geoff Smith of Kubota UK.
Standard Plant Hire, one of the leading construction plant hire specialists in the South East, has pinpointed Lister Wilder's ability to meet the machinery demand of its customers quickly and efficiently as one of the key factors behind the purchase of 70 new Kubota excavators this year, expanding its Kubota fleet to 240 machines.
Michael Flemming, Director of Standard Plant Hire, stated: "There has been a lot of investment in new housing projects across the South East recently that has seen the demand for reliable construction equipment continue to grow.
"A lot of our business operates in the utility sector, so with thousands of new homes planned for construction that need electric and gas supply lines installed, it's vitally important that not only can we provide equipment that is up to the task, but also as and when our customers need it."
Based in Croydon, Standard Plant Hire has been operating since 2009, providing construction equipment to a range of customers from small scale local builders to those working on high profile commercial contracts.
Michael continued: "The Kubota KX and U excavator series are extremely popular with our utility contractors. Able to tackle the most challenging jobs, the Kubota machines are reliable, durable and offer superior digging force, which is everything our customers are looking for from an excavator.
"Our strong relationship with Lister Wilder helps both us and our customers, meaning they are left satisfied. The parts and aftersales support received is first class and the residual value of the Kubota machines is beneficial to our plant sales program."
Paul Mahoney, Construction Sales Manager at Lister Wilder Ashford, added: "Having worked with Michael since day one, when Standard Plant's fleet consisted of just one excavator and one dumper, it's been fantastic to see his business grow so successfully. Michael has built a strong and loyal customer base, with all 240 of the company's excavators being Kubota machines sold by Lister Wilder.
"The surge in demand Standard Plant has experienced is indicative of current buoyant market conditions and also the strength of the Kubota brand. The whole Lister Wilder team looks forward to continuing this relationship with Michael long into the future, as the Standard Plant business continues to thrive."