By Plantworld at Plantworld News in Plant News
Euro Auctions reports huge leap in bidders and sales at recent Leeds event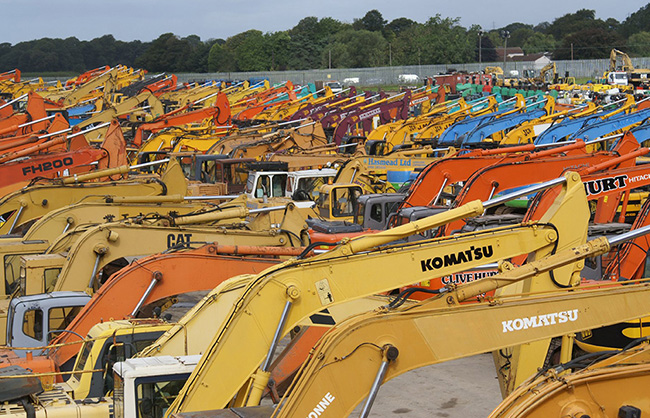 Euro Auctions, leading auctioneers of used industrial plant, construction machinery and agricultural equipment, reported record results for its three-day Leeds 'start of the year' unreserved auction between 31 January and 02 February.  
The total hammer was over £40.5 million, almost 30% up on the previous year's opening sale.  The total number of lots sold also topped the 4,500 mark delivering an average lot price of almost £9,000 with total bidder numbers up almost 20% to over 2,600; with more than half opting to be online bidders.  Over 460 vendors from 26 countries also consigned equipment to the sale; around one in 14 being first time sellers. 
"We were absolutely delighted with how the start of the year has gone with growth being achieved right across the board at the opening auction of 2018 at our premiere Leeds site," reported Jonnie Keys, Operations Manager of Euro Auctions. "Demand for quality used and 'as new' plant and equipment in the UK and around the globe is definitely on the rise. We're seeing record growth in the overall number of consignors and the number of lots consigned, along with jumps in registered bidders, the number of successful first time buyers, and the average lot prices achieved. Our Leeds auction attracts a truly global audience, with depth in numbers in the UK, from across Europe, North Africa and the Middle East, but also ever growing interest from the USA, Far East and Australia."
In 2017 Euro Auctions' Leeds site alone broke the £200 million annual sales mark for the first time.  Euro Auctions also reported successes elsewhere within its global network with the upcoming Kissimmee, Florida, USA sale under its Yoder & Frey banner that starts on 13th February, shaping up well; with the new Hong Kong and Dubai auction sites, both established in 2017, similarly reported solid growth. Euro Auctions also operates successful sites in Dormagen, Germany and Zaragoza, Spain; in Dromore,Northern Ireland; and Brisbane, Australia.  Euro Auctions also conducts a growing number of offsite sales; which in 2017 included the multiple world record achieving Hewden mobile crane disposal sale where the impressive spectacle of 127 cranes were lined along the Newark showground runway and sold in a single day in March for a final hammer price exceeding £27.4m.
Upcoming Euro Auctions / Yoder & Frey sales:
Upcoming Euro Auctions sales include an online truck parts auction on the 21st , Coordinated via its Dormagen, Germany site as a follow-up to a two-day sale that commenced on February 14th; Dromore, Northern Ireland on February 23-24th; the first sale of the year at its news Dubai site on March 5th; closely followed by a one day sale in Zaragoza, Spain on the 6th March.  Under the Yoder & Frey banner there is the Kissimmee Winter sale in Florida, USA between 13-17th February; and a one day sale at its site in Ashland, Ohio site on March 15th.  The next Euro Auctions sale in Leeds is scheduled for 4-6th April; all offering potential buyers a great opportunity to acquire some impressive lots with full details for consignors and bidder catalogues for these events available on the Euro Auctions website at www.euroauctions.com   email info@euroauctions.com or on +44 (0) 2882 898262.