By Plantworld at Plantworld News in Plant News
Speedy Helps Skanska Keep Air Quality High on Crossrail Mega-project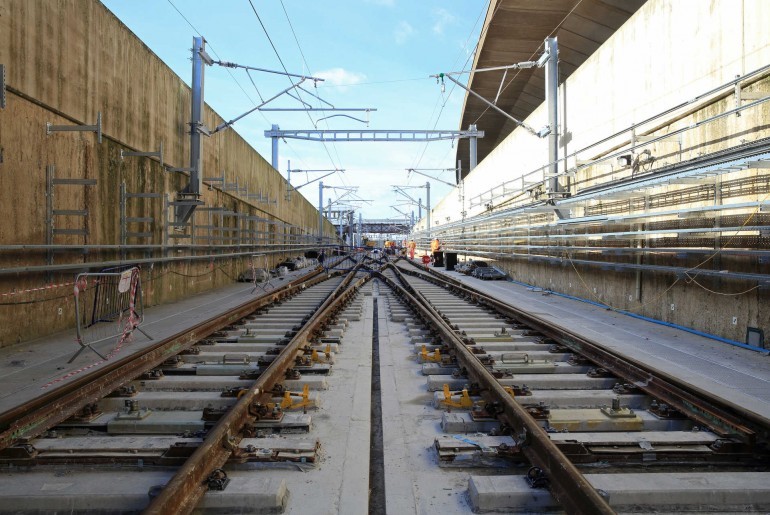 Work is ongoing on the Crossrail project to develop a 118-kilometre (73-mile) railway line across London and the Home Counties of Essex, Berkshire and Buckinghamshire. Multinational construction and development company, Skanska, working as part of a joint venture with engineering solutions provider Costain, has won several construction contracts as part of the Crossrail scheme.  One of the most challenging is the redevelopment of London's Paddington station.
Throughout the project, Crossrail, the company set up to build the line, has focused on minimising emissions both to protect the health and safety of site workers and also to meet contractual guidelines and regulations. With air quality increasingly high on the agenda within urban environments in particular, large contractors working on major construction projects need to look for green, environmentally friendly solutions.  When Crossrail specified that it needed two static generator sets together with an associated diesel particulate filter (DPF) system to be fitted at Paddington, Costain -Skanska decided to turn to equipment hire provider Speedy, to supply the required solution.
Speedy has a long-term relationship with Skanska, stretching back many years. It also has extensive expertise in meeting construction project challenges and in delivering to tight deadlines.  The solutions Speedy proposed also met Crossrail's needs in terms of being environmentally friendly and compliant with existing regulations in this area.
Compliance is Key
The CRT SMF® DPF is fully accredited under the strict test criteria governed by the Energy Saving Trust and other recognised European legislators. Critically too, it also meets Non-road Mobile Machinery (NRMM) compliance regulations. Although NRMM is essentially about recommended good practice, all forward-thinking solutions providers and contractors across the country recognise the importance of adhering to it, not least because it makes them a more viable and attractive option for end customers.
Currently, NRMM applies to all major development sites in Greater London, and all sites within the Central Activity Zone or Canary Wharf (CAZ/CW). From 1st September 2020, the standard will apply to all sites in Greater London. Crossrail was focused on putting the most effective product in place from an emissions perspective – and so it was key that all generators and filters installed at Paddington were able to comply with NRMM. Speedy's solutions fitted the bill perfectly.
Putting a Solution in Place
Once the green light was given, Speedy supplied an SDMO 100kva and a 200kva generator set up as a synchronisation package. This allowed the site to save on fuel when power usage was low and have the ability to swap to a bigger generator when the load demanded it. Thus the lead generator (100kva ) was selected to have the DPF Fitted as it run the majority of the time., now installed at Paddington station, and successfully retrofitted the CRT SMF® DPF to it. The process of installing the filter itself was straightforward – and Speedy has now installed a secondary silencer to ensure full noise levels are well within OE tolerances.
To support the implementation, Speedy provides a managed service solution which also incorporates generator fuel and a support package. This solution has evolved significantly since the generator and DPF were implemented, and now incorporates full integration with the DPF, the use of telemetry to monitor fuel levels in tanks; and the latest advances in fuel cleaning.
The filter is proven to remove over 99% of harmful PM10 particulate matter (black soot) from the exhaust. This brings engines of Tier 3a or earlier, up to Tier 3b PM10 compliance.  By removing diesel particulates out of the air, the filter significantly improves the air quality and overall environment for everyone working on the Crossrail project at Paddington.
Reaping the Rewards
Since the filter has been in place, there has been minimal downtime or disruption to the working environment. One of the key benefits is that the filter does not need to be repeatedly cleaned to remain operational.
In line with this, at Paddington, the filter was used constantly for 18 months before cleaning was required. Helpfully, alerts are also provided. The filter's integral monitoring system with service display notifies service personnel when cleaning is needed. The device is also currently undergoing full integration into the existing Speedy telemetry system to enable full remote monitoring.
It's also important to note that there is no limit to the number of times the filter can be cleaned. It will not degrade or lose performance through cleaning, so it will last for many years providing it is used correctly.
Moreover, this is the only product of this type that can be cleaned with a pressure washer and water, and then re-fitted. All other filters need to go through an external regeneration process via a baking procedure in a specialist kiln. This incurs significant additional costs and severely increased down time for the machine.
Exploring New Options
Following on from the successful implementation of the DPF filter for Skanska at London Paddington, Speedy has developed a version of the solution which gives added flexibility to customers.  "We are seeing a lot of interest in the market already for this rental version," says Mark Tomlin, Project Manager, Speedy Services. "We have come a long way over the last couple of years in evolving the filter and the way it can be implemented. Rather than always roof-mounting it, we can now incorporate it in the canopy of the generators themselves".
"It is also key that contractors working on projects that are scheduled to last three months for example, know that they can get a cost-effective deal over that set period. They can rest assured that their emissions are under tight control and that they are a more viable option at tender as a result. At a time when air quality is becoming an increasingly critical issue on major construction and infrastructure projects, having a high-quality filter in our portfolio and flexible deployment options in place is a major differentiator for us in this marketplace."
https://www.speedyservices.com/