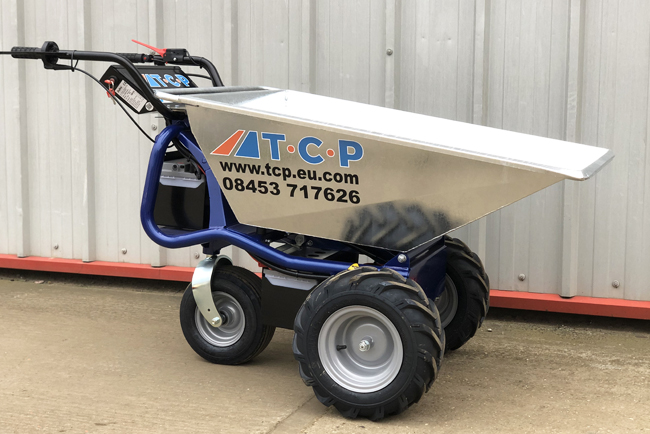 TCP (Taylor Construction Plant Ltd) has become the main UK dealer for the Zallys Battery Dumper. This robust combat material mover is silent yet powerful and produces zero emissions.
The Zallys Battery Dumper is suitable for loads up to 500kg and can handle the most demanding of jobs. This compact battery dumper is easy to operate (one-person operation) and manoeuvre with accelerator controls for forward motion up to 5.5kph and reverse up to 4kph. It also offers a semi-automatic tilting skip functionality.
With its silent operation and zero emissions, the Zallys Battery Dumper is perfect for use in urban and environmentally sensitive areas as well as being suitable for tunnels and enclosed spaces. It offers the power you would expect from a much larger engine powered machine but without any pollution or on-site contamination.
"We are proud to be the main UK dealer for the Zallys Battery Dumper. Its advanced use of battery power and zero emissions makes it a valuable addition to our growing range of fuel cell/battery hybrid products for the construction industry," explains Andrew Barker, Managing Director of TCP.
The Zallys Battery Dumper is available to buy or to hire from TCP. It will also be on show alongside TCP's other battery and hydrogen fuel cell products at RailWorx, STAND RJ1. For more information, take a look at www.tcp.eu.com