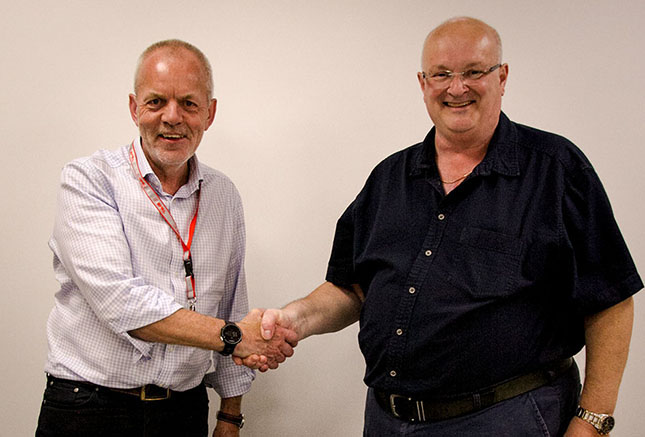 In the same year SPAL Automotive UK celebrates 10 years as the sales and warehousing arm of leading Italian designer and manufacturer of high performance axial fans and centrifugal blowers, the team bids farewell to one of its biggest personalities and greatest salesman.  After 7 amazing years, Kevin Aldrich is stepping down as OEM Business Development Manager.
Matthew Morris, MD SPAL UK who did the honours by staging the retirement send-off, says:
"Kevin leaves behind an impressive legacy as a key player in the successful team who secured a substantial supply contract for a major global automotive manufacturer in 2018.  Kevin was the notable front man who worked closely with the SPAL factory in Italy and the automotive engineers of leading car makers to identify new business opportunities for SPAL's range of brushless motor axial fans and centrifugal heater blowers.
The ultimate professional salesman, customers will recall his boundless energy and real passion in conveying the fantastic features and benefits of SPAL's advanced thermal management technology; as well as his total commitment to delivering a bespoke solution to any cooling conundrum.
"A big presence in all senses of the word, he will be much missed.  We wish him every happiness in his well-deserved retirement."