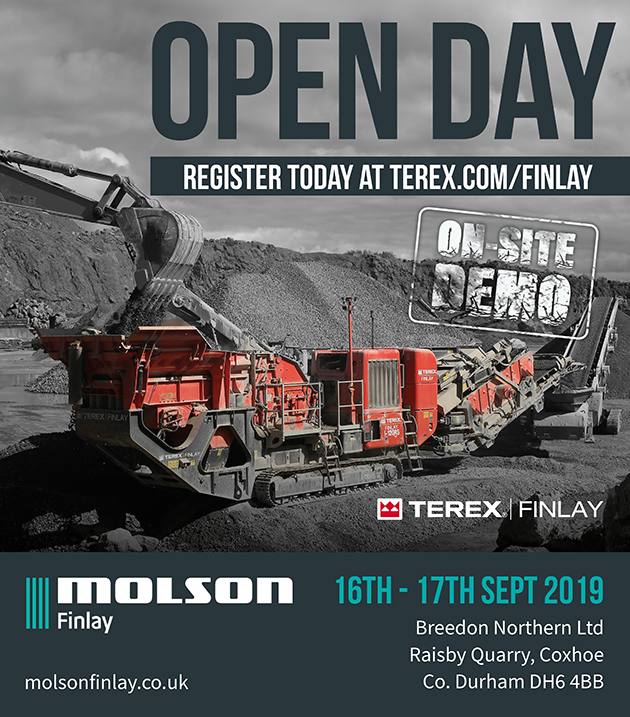 Molson Finlay and Finlay Scotland, the sole distributors of Terex Finlay crushing, screening and conveying equipment throughout Great Britain are set to host an open day not to be missed on the 16th and 17th September at Breedon Northern Ltd's Raisby Quarry in Co. Durham.
The event is set to feature a total of 19 crushers, screeners and conveyors from Terex Finlay, alongside other products from the Molson Group including Kobelco excavators, Hyundai loading shovels and much more. Amongst all the equipment on display in this working quarry will be a total of 6 new machines from Terex Finlay, showcasing the latest product developments in areas such as engine technology and operational enhancements.
With live demonstrations on material ranging from quarry aggregates to asphalt and recycled aggregates, visitors will see machines working on material similar to their own applications.
Demonstrations of the new Terex Omni system will also be sure to catch the eye of visitors, given the potential that this revolutionary technology offers to improve operator safety and increase productivity. Terex Omni is a tablet-based system that enables operators to monitor and adjust the settings and performance of their Terex Finlay products from the safety and comfort of their cabs.
The event is open to the public, but visitors are encouraged to register for free at