By Plantworld at Plantworld News in Plant News
Spotlight on market intelligence at HAE EHA conference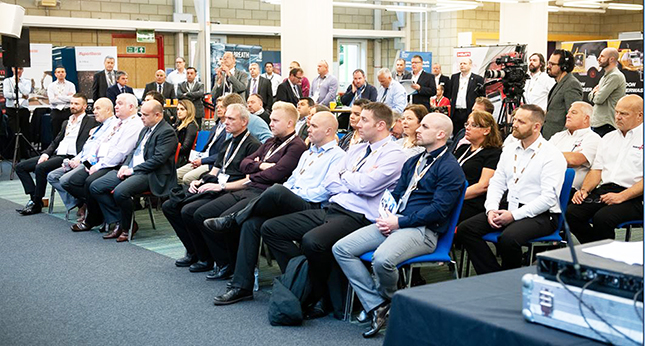 Good things come in threes so the jam-packed third annual HAE EHA Conference at Loughborough on October 1 is appropriately around themes of collaborate, innovate and inspire, with an exciting line-up of speakers that are sure to add to the buzz at Holywell Park.
The Hire Industry is a growing part of the UK economy and its importance to the construction sector cannot be underestimated, with companies big and small leasing tools and plant equipment for projects ranging from major infrastructure works to home improvements. However, Brexit and recruitment issues are almost certain to be major factors dominating the conference.
EHA members will also have the chance to address the unique challenges event hire businesses face, giving them a glimpse into the future and enabling them to find out what opportunities could lie ahead for the industry to grow.
A variety of speakers, including a former child prodigy now running a social enterprise and a chief economist, will present topics on training solutions for recruiting and retaining more women, how market intelligence can boost business and the collaboration between the hire and construction sectors in a changing world.
HAE EHA Chairman, Brian Sherlock, will kick off the event with his welcome address before Commercial Manager Paul Gaze and Scott Ball from HireTrain join forces to give the low down on the steps the industry is taking to encourage a constant learning environment for new starters.
Inspiration on where talent can take you comes from Anne-Marie Imafidon MBE, a British computing, mathematics and language genius. She is one of the youngest to pass two GCSEs in different subjects while in primary school. Anne-Marie founded Stemettes in 2013, a social enterprise promoting women in Science Technology Engineering and Maths (STEM) careers.
Anne-Marie says love of technology got her where she is today and is sure to captivate the audience with her take on STEM for Many, the future of work and how technology-related fields offer young women a great vehicle for career choice.
Taking up the theme of collaboration with no gender barriers is Mark Noonan, Industry Relations Director on behalf of Sarah Beale, CEO of the Construction Industry Training Board (CITB). He will focus on how Hire is regarded as the 'enabling industry' for construction and how programmes such as the new Mentor Leadership Programme for women are key.
Rounding off the morning's presentations is an overview of the UK construction industry and the country's economic performance by Tom Hall, Chief Economist, Barbour-ABI and AMA Research. He will also be expressing the hire sector in value terms and how market intelligence can help generate new business. In addition, a range of essential industry topics will be covered, with speakers yet to be confirmed for dust control, crime prevention and mental health. Watch this space!
Putting the conference spotlight on the strong links between hire and construction, their role in the economic well-being of the country and focus on attracting more females with training opportunities that offer a career pathway, are relevant at a time when the UK's supply lines in both materials and labour are under pressure due to Brexit.
HAE EHA Chief Executive Officer, Graham Arundell, said: "Our impressive line-up of speakers is sure to provoke debate among members on the direction of travel for our industry. Hire and construction are inexorably linked so when times are booming both sectors benefit, conversely if there's a nervous wobble in the economic chain then both get the shakes."
The HAE EHA Conference is open to all members but people wishing to attend need to register online on a website hireconference.org.uk. If you would like further information on speaker slots, exhibitor spaces and sponsorship options, please contact the team on 44 (0)121 380 4605 or e-mail marketing@hae.org.uk.