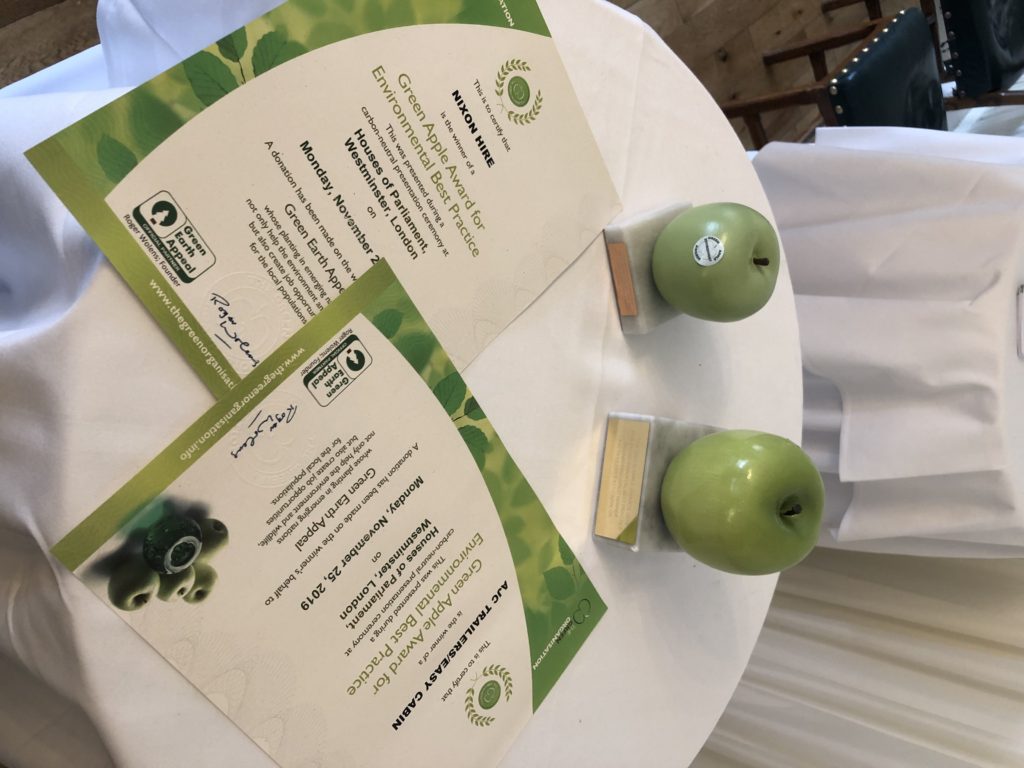 Luton based AJC Trailers, one of the UK's leading producers of sustainable site welfare facilities, are celebrating a spectacular double win at this year's Green Apple Awards.
Their EcoSmart ZERO emission welfare unit scooped gold and their H20 Solar Pod was presented with the silver award.
AJC's sales director, Lisa Gillett, accompanied by workshop foreman, Jonathon Denny was invited to a lavish award ceremony at the Palace of Westminster where they collected their awards.
The EcoSmart ZERO provides all the mandatory welfare facilities and is powered by a combination of a hydrogen gas powered fuel cell and an advanced solar power system. This means the unit operates almost totally silent and emits only pure water vapour. The power to run the heating, sockets, kettle and microwave comes instantly from a battery bank. The batteries are constantly fed by the built-in hydrogen fuel cell and solar panels.
The H2O Solar Pod (Patent Pending) was designed and developed in conjunction with a top UK equipment rental firm, Nixon Hire. The H20 Solar Pod delivers up to 30kVA of power by combining solar PV with a back-up generator and large water tank, thus providing all a sites needs in one sustainable product. The H20 Solar Pod significantly reduces fuel bills by harvesting the suns energy to provide free power to site with the security of a back-up generator.
Commenting on these latest achievements, Lisa said, "Both the H20 Solar Pod and the EcoSmart ZERO have been extremely popular on sites throughout the country. To have their sustainable qualities recognised by the Green Organisation is indeed an honour and a testament to all the hard work that our design teams put into developing environmentally sensitive equipment."
The Green Apple Awards began in 1994 and have become established as the country's major recognition for environmental endeavour among companies, councils, communities and countries. The Green Organisation is an international, independent, non-political, non-profit environment group dedicated to recognising, rewarding and promoting environmental best practice around the world.
The Green Apple Awards are supported by the Environment Agency, the Chartered Institute of Environmental Health, the Chartered Institution for Wastes Management and other independent bodies.
EasyCabin is the brand name for static and mobile welfare accommodation units manufactured by AJC Trailers Limited. The company has been producing a range of mobile units since 1964 and presently operate from a modern 32,000 sq. ft. plant.