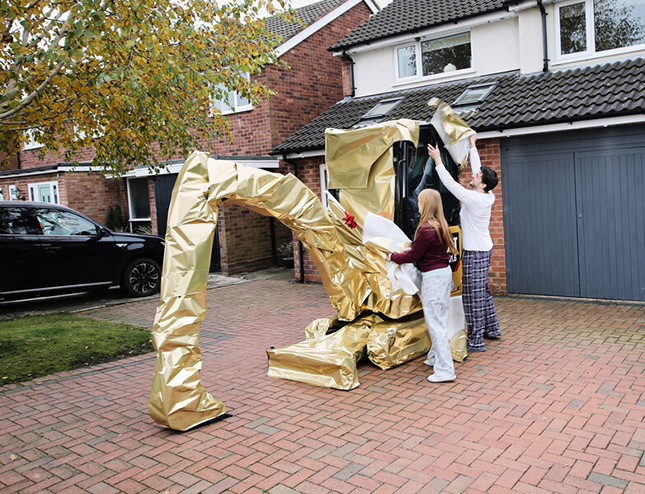 Cat distributor keeps the magic alive
Online retailers are being accused of ruining the magic of Christmas for children up and down the country by delivering presents without adequate packaging and failing to conceal what's inside. Finning, the UK's leading distributor of Cat® machines, has reassured anyone buying one of its machines for someone special this year, that it's taking extra care not to spoil the festive surprise. In fact, the company has gone to the extra effort of gift wrapping some of its machines, just in case there is a lucky contractor expecting to find one in his or her stocking on Christmas morning.
As the big Christmas rush approaches and deliveries reach their peak there have been several high-profile stories of Christmas surprises having been ruined thanks to the wrong packaging. Parents are calling for retailers to stop behaving like Scrooge and make sure that any gifts they send, especially those that are clearly for children, are suitably packaged, so they don't ruin the surprise on Christmas morning.
In response, Finning has promised to keep the magic alive for anyone buying a Cat machine for that special someone this Christmas. Elves at its branches around the country are already busy wrapping machines destined for delivery to contractors lucky enough to be on the nice list this Christmas.
According to the University of Exeter, the average age children stop believing in Santa is eight, with grown-ups blamed for making basic errors and exposing the truth, as is clearly the case here.
For one parent, the lack of packaging resulted in her daughter's acknowledgement that Santa isn't real – after her surprise keyboard was delivered without a box.  "My daughter has now seen her Christmas present and told me she 'knew Santa wasn't real all along. Why not disguise the packaging? Especially this time of year!"
"Christmas is a magical time for children and adults alike," explained Peter Seaman, customer experience manager at Finning, "There's nothing like waking up on Christmas morning and opening up a gift that is completely unexpected — it's what make Christmas special.
"We've taken extra care this year to keep the magic alive. The elves at all of our branches have been carefully gift-wrapping machines set for Christmas delivery, so they don't spoil the surprise on Christmas morning for those lucky enough to receive a Cat mini-excavator."