By Plantworld at Plantworld News in Plant News
APS delivers UK's first bi-energy Hinowa Lightlift 33.17 to JMS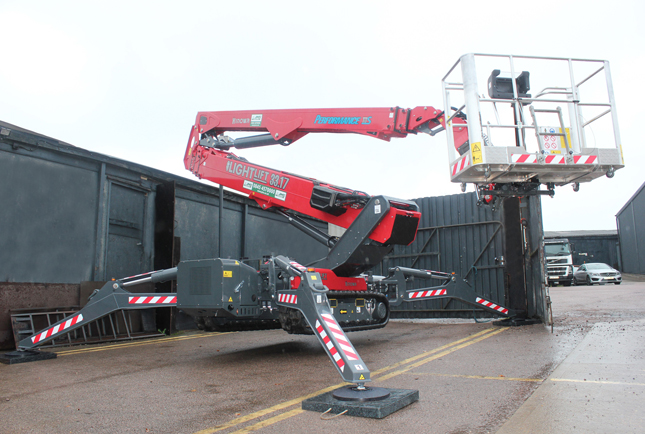 Access Platform Sales has delivered the UK's first bi-energy Hinowa Lightlift 33.17 Performance IIIS spider platform to access rental company JMS. The handover marks an important step as the Italian manufacturer rolls out its range of industry-leading bi-energy spider platforms, setting new standards for operational performance and sustainability.
Access Platform Sales (APS), the exclusive distributor for all Hinowa products in the UK, is due to deliver a second bi-energy Lightlift 33.17 to JMS in January.
The new bi-energy Hinowa Lightlift 33.17 spider platform can be powered with a low-emission Kubota D902 diesel engine or as an electric platform with its lithium-ion batteries. It was handed over to JMS Managing Director Mark Jackson by APS Major Accounts Manager Linda Betts at the access rental company's depot in Radlett, Hertfordshire.
Mark Jackson said: "Hinowa platforms are world-beaters and JMS strives to allow customers to take advantage of the very latest developments in powered access. So, we're very pleased to be the first rental company to get this excellent new Hinowa bi-energy platform from APS. The bi-energy Hinowa Lightlift 33.17 gives us and our hire customers the best of both worlds. Its performance in terms of operational control, working height, and outreach is second to none. The bi-energy format also delivers major benefits in terms of having access to diesel power when its needed alongside the low-carbon, low-noise and zero-emissions capability of electric operation."
Linda Betts said: "We're delighted that JMS has become the first hire company to take the bi-energy Hinowa Lightlift 33.17. It's an exciting platform for us to market and one that's generating a lot of interest. Hinowa aims to be at the forefront of bi-energy technology for tracked spider lifts. Many of our customers say they intend to invest significantly in bi-energy platforms across all formats in 2020 and beyond."
The bi-energy Hinowa Lightlift 33.17 is the tallest platform in the Hinowa Performance range. It has a maximum working height of 32.5m and maximum outreach of 16.5m. Like all Performance platforms, it has an unrestricted basket capacity of 230kg.
The platform's bi-energy function allows operators to make best use of both power systems. For example, it can be tracked to a worksite under diesel power, conserving the lithium-ion batteries for use only when working at height, maximising productivity.
This capability is becoming increasingly attractive as more asset owners and local authorities require low noise and zero emission platforms to be used in built-up areas and when working at night. This is especially the case for properties like hospitals, care homes and housing estates.
The bi-energy Hinowa Lightlift 33.17 shares the same much-admired smooth, fast and precise operational control system as other Performance platforms.
This common compatibility of components across the range helps reduce fleet maintenance costs and allows MEWP operators to switch effortlessly between platforms to work at different heights with no extra training.
Features designed to enhance productivity and ease-of-use, like one-touch outrigger set-up and retraction and Hinowa's Auto2Speed system, which allows excellent travel speed, are also popular.
While a travel width of just 1.7m delivers excellent performance in confined areas for a platform with such impressive height and reach.
APS can also supply the Hinowa Lightlift 33.17 with diesel-only power or as an all-electric lithium-ion battery platform.