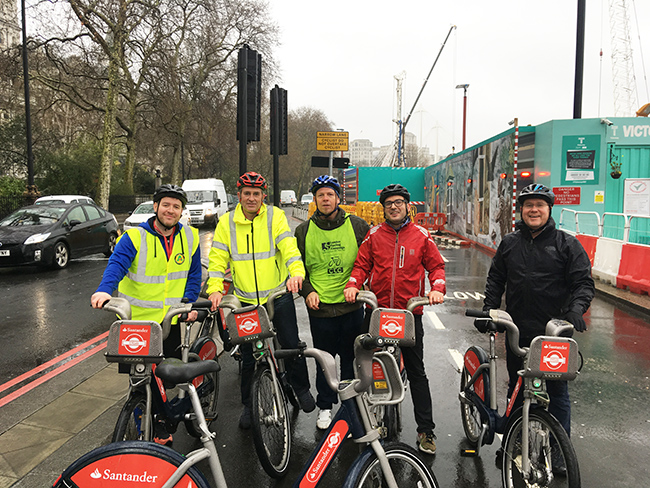 (L-R: Tom Welland, Mark Pudney, Michael Barratt MBE, Will Norman, Dave Harris)
A-Plant – Britain's biggest plant, tool and equipment hire company – has set the wheels in motion to help make London's streets safer for vulnerable road users.
With increasing development related works taking place in the capital, four A-Plant representatives were invited to attend a constructors cycling experience, hosted by Transport for London (TFL), to better understand the potential barriers construction can create for pedestrians, cyclists and people of reduced mobility in the city.
The monthly rides, which are open to a variety of partners and stakeholders, are part of the transport authority's Healthy Streets initiative, which aims to increase walking, cycling, and use of public transport.
Mark Pudney, Managing Director of Speciality Heavy at A-Plant, attended the cycling experience alongside Business Development Director, Dave Harris, National Account Manager, Tom Welland and Sales Manager Alan Clarke.
The group took the CS3 and CS6 cycle routes from Palestra Southwark, over Blackfriars to Westminster Bridge, accompanied by Will Norman, the Commissioner for Cycling and Walking and Michael Barratt MBE, Development Impact Assessment Manager at Transport for London.
Having witnessed the challenges increasing HGV traffic, dust and noise can create for the travelling public; A-Plant is now taking steps to reduce barriers to pedestrians and cyclists at its construction sites across the capital.
Mark Pudney explained: "A-Plant is a regular user of London Highways, delivering equipment and services to the construction and infrastructure markets across the capital. Therefore, it is important that we are on board with TFL's healthy streets approach, working collaboratively with communities and industry.
"My colleagues and I really enjoyed taking part in the constructors cycling experience and it provided a great insight into the challenges faced by the authority in keeping essential construction traffic and deliveries into the city running, but at the same time keeping cycle and pedestrian routes open and safe.
"The experience highlighted the challenges faced by vulnerable road users when footpath or cycle path diversions force them into flowing traffic and got us thinking about what more we can do as a business to help develop safer streets.
"As well as promoting cycle awareness, our design team is now working on a template for construction sites, which will allow cyclists and pedestrians to remain on route, rather than being re-directed into high risk areas when works are being carried out."
TFL is an integrated transport authority responsible for delivering Mayor of London Sadiq Khan's strategy and commitments on transport. They run the day-to-day operations of the capitals public transport network and manage London's main roads.
TFL's Development Impact Assessment Manager, Michael Barratt, has been working closely with construction companies over the past year, to ensure the methods they implement do not deter people from using sustainable modes of transport.
He explains: "London is such an exciting city to work in and visit and I am passionate that everybody should be able to enjoy travelling around the capital safely, whether they get about by cycling, walking or using public transport.
"A-Plant was one of the first companies to join us on our monthly rides and it has been fantastic to witness their enthusiasm and dedication in helping to improve the safety and security of the travelling public."