By Plantworld at Plantworld News in Plant News
Winners announced in new multi-million pound Environment Agency plant hire framework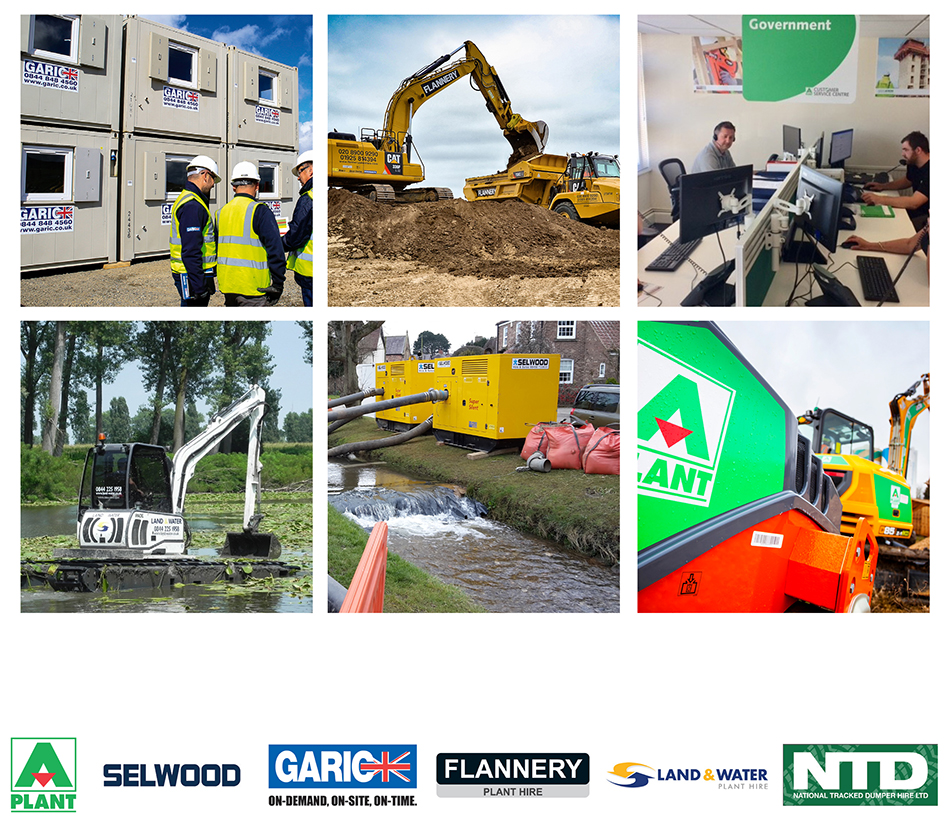 Following a comprehensive business review and keen competitive tender process, the Environment Agency has awarded a new framework for its hired equipment requirements to A-Plant, Garic, Selwood, Flannery and Land & Water.
Each supplier will provide expert support over the next six years under a framework that provides added value through improved efficiencies, consolidated reporting and service levels.
The suppliers have been awarded a category of equipment to supply, allowing the agency to work directly with industry experts in their respective fields.
Under the new agreement, A-Plant, the UK's largest plant, tool and equipment hire company, will act as the dedicated and centralised managing agent for all supplying hire contractors.
In addition, A-Plant has also been awarded the plant equipment, site provision and agricultural plant category lots which will see it supply excavators up to 8 tonne, forklifts, lighting, bowsers and generators, plus tractors, wood chippers and bank and remote control mowers.
Plant and site equipment providers, Garic, have been awarded the accommodation and welfare equipment contract, to supply toilets, storage units, and static and towable welfare units.
World leading pump manufacturers Selwood will provide static, towable and electric submersible pumps.
While Flannery will work in partnership with award winning civil and environmental engineering experts, Land & Water, to provide operated and heavy plant equipment. Between them they have been selected to supply a range of long reach and standard excavators, dumpers, dump trucks, dozers and tracked dumpers.
As well as providing the agency with substantial yearly savings, Dale Eynon, Director of DEFRA Group Fleet Services said the new framework would also improve efficiencies and levels of service.
Dale comments: "Our new framework is anticipated to provide efficiencies and improved levels of service across many areas including; an improved supply chain, reduced cross hire, rate transparency, supports for Incident Response and the availability of the latest equipment technology and latest engine emissions.
"Due to this new approach we are also able to access competitive rates, great customer service and quality equipment."
Dave Harris, Business Development Director at A-Plant comments:
"We are delighted to extend our long standing and successful relationship with the Environment Agency (EA) through the framework awards announced today. We look forward to supporting the EA over the next six years, in our role both as contract managing agent and as hire equipment provider. We feel the service and value our team provides has contributed to this outcome and to ensure the EA's objectives are delivered, they will continue to work closely with each of the other hire category suppliers and the EA teams across England."
Chris Garrett, Selwood CEO, comments:
"Selwood's success is built on partnerships, and we are pleased that the expertise of our teams and their commitment to product excellence and outstanding customer service have been recognised in this competitive tender process.
"We are delighted to have been chosen as a key supplier on this framework, and our teams are looking forward to serving the Environment Agency from Selwood's network of pump rental branches around the UK."
Patrick Flannery, Managing Director of Flannery Plant comments:
"We are proud to have been selected as a direct supplier to the Environment Agency and DEFRA, and feel that we have a great opportunity to work closer to develop standards and working practices. Over the last five years we have worked hard as a tier 2 supplier on the framework and feel that the hard work put in as a tier two has been rewarded with tier 1 status".
Richard Maclean, Director at Land & Water Plant comments:
"Having been a third party supplier to the Environment Agency for over 20 years, we are really looking forward to suppling directly to them and the opportunity working closer with them. This framework will allow our continued investment in the latest, safest, and environmentally considerate specialist plant, it also allows the continued development of our talented team who have delivered such a strong customer focused service over recent years."
Neil Richardson Sales Director at Garic comments:
"We are thrilled to be working alongside other valued suppliers to support the Environment Agency in their significant framework, which will enhance the current and critical work being carried out throughout the UK. We are delighted to be awarded the Welfare and Accommodation category within the framework agreement for the next six years. Garic are excited to start this partnership by growing the relationship, endeavouring to be the best quality hire supplier we can possibly be, and deliver outstanding solar welfare in line with our own, and the Environment Agency's core values. The team are looking forward to being on board!"
Established in 1996, the Environment Agency is responsible for regulating major industry and waste, treatment of contaminated land, water quality and resources, inland fisheries, river, estuary and harbour navigation, conservation and ecology, plus managing the risk of flooding from main rivers, reservoirs, estuaries and the sea.
The Agency has a large internal plant fleet holding, but requires additional plant on a national basis to ensure the organisation's operational teams have access to the latest, safest and most environmentally efficient equipment.
The initial three-year contract goes live in June and includes a further three-year extension option. The framework is key to delivering the Environment Agency's front line services. The contract will support annual maintenance programme as well as supporting management of flood defence assets. As a category 1 Incident Response Service Provider the contract will also provide availability of equipment 24 hours a day, 7 days a week, 365 days of the year in order to the Agency are 'Major Incident Ready'.